Image: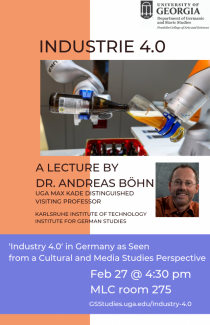 Industry 4.0 in Germany as Seen from a Cultural and Media Studies Perspective.
Join us at 4:30 on Wednesday, February 27 in the Miller Learning Center, Room 275, as Dr. Andreas Böhn discusses the concept of Industry 4.0 in Germany. Known as the "New Industrial Revolution," Industry 4.0 is a mechanization of many tasks that has the potential to elevate workers to more highly technical and advanced positions as the economy shifts.
A specialist in modern German literature and media studies, Professor Böhn is from the Institut für Germanistik at the Karlsruhe Institute of Technology in Karlsruhe, Germany, the partner university for UGA's dual degree in German and Engineering.
As the 2019 Max Kade Distinguished Visiting Professor in the Department of Germanic & Slavic Studies at UGA, he is currently teaching a course entitled GRMN 4500/6500 Technik, Modernisierung und die Rolle des Individuums bei Kafka und Jünger / Technology, Modernization, and the Individual in the Works of Franz Kafka and Ernst Jünger.