Image: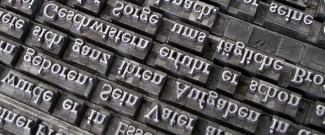 We are pleased to announce that registration for the 4th Annual Linguistics Conference at UGA (LCUGA4) for UGA attendees is open on our website at www.lsuga.com/conference/2017/registration. Please note that the registration form for UGA attendees is distinct from that for presenters (UGA + non-UGA) and non-UGA-affiliated attendees. Admission to all LCUGA4 conference presentations and plenary events is FREE for UGA affiliates; however, we would appreciate it if you could register in advance so we can accurately estimate our total attendance for the weekend.  
LCUGA4 will take place October 6-8, 2017 in the Zell B. Miller Learning Center (MLC), and our theme this year is "Crossing Boundaries". We look forward to featuring more than 30 presentations, 3 plenary speakers, and one film screening over the course of the weekend, all of which span linguistic subfields, those which incorporate interdisciplinary research from other areas of the sciences and humanities, and those which bridge the gap between academia and the wider non-academic community. bridge gaps between linguistics and other fields. The full schedule is available at: www.lsuga.com/conference/2017/schedule. 
More information is also available on our website at www.lsuga.com/conference/2017.