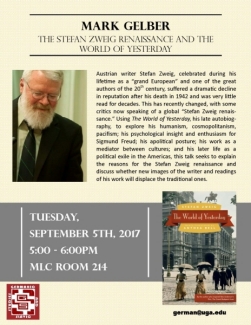 Miller Learning Center, Room 214
The Department of Germanic & Slavic Studies would like to invite you all to join us on Tuesday, September 5th, for a lecture by Dr. Mark Gelber, from Ben-Gurion University, Israel. Dr. Gelber's lecture is titled, "The Stefan Zweig Renaissance and the World of Yesterday" and will explore potential reasons for such a renaissance and whether new insight to Stefan Zweig's work can supplant the long-standing views already in place.
Dr. Gelber is an American-Israeli scholar of Comparative Literature and German-Jewish Literature and Culture. He has been working at Ben-Gurion University since 1980, and has additionally been an honored guest professor at 9 esteemed universities throughout Europe and the United States. He was the recipient of the Alexander von Humboldt Research Fellowships in 1991-92 and in 2004, and has also received multiple DAAD research stipends. His research has led him to publish over 100 scholarly works, articles and monographs spanning the fields of literature, history, religion, cultural studies, sociology, and philosophy.