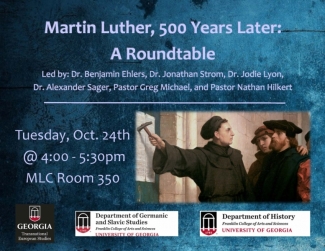 Miller Learning Center, Room 350
On Oct. 31, 1517, Martin Luther posted his 95 Theses on the doors of the Castle Church in Wittenberg. In the ensuing centuries, historians have both celebrated and critiqued this pivotal event in Western history. Join us for a roundtable discussion of the impact of the 95 Theses and their continuing relevance over the last 500 years. Panelists include:
Dr. Alex Sager, Germanic and Slavic Studies: "Indulgences in Late Medieval Europe"
Dr. Jonathan Strom, Emory University: "Luther's Theology and the 95 Theses"
Dr. Jodie, Lyon, Religious Studies: "Letting Go of Bibleman: Embracing Luther as Theologian"
Pastor Greg Michael, Christus Victor Lutheran Church (Athens): "Luther's Concept of 'Vocation'"
Pastor Nathan Hilkert, Holy Cross Lutheran Church (Athens): "Three Lenses to Understand Martin Luther"
Sponsored by the Transnational European Studies program, Germanic and Slavic Studies, and the History Department. Refreshments will be served.