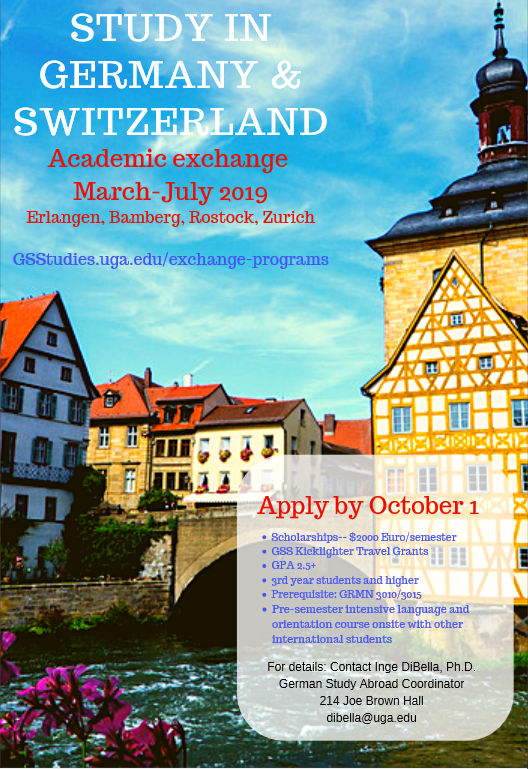 Exchange Programs in Germany and Switzerland. Apply by October 1st, 2018
Our Partner Universities
UGA offers undergraduate students the opportunity  to study in Heidelberg or Zurich for one or two semesters. Opportunities at Rostock, Erlangen, and Bamberg exist as well, although graduate students are preferred for these programs. Information for these exchanges can be found at the following websites:
Heidelberg –  https://www.uni-heidelberg.de/; http://www.uni-heidelberg.de/courses/prospective/admission_int/guide/online_guide_index.html
Zurich – https://www.uzh.ch/de.html ; https://www.uzh.ch/cmsssl/en.html
Rostock – https://www.uni-rostock.de/; https://www.uni-rostock.de/en/
Erlangen – https://www.fau.de/; https://www.fau.eu/
Bamberg – https://www.uni-bamberg.de/  https://www.uni-bamberg.de/en/
Length of the exchange
The academic year in Germany and Switzerland consists of the Wintersemester, from October to February, and Sommersemester, from April to July. For this reason, students wishing to go for one semester should apply for the summer term (our spring term).
Cost
Students will pay tuition and fees (administered through OIE) as an outgoing exchange student. You may use the HOPE scholarship or any other financial aid for which you are eligible. However, HOPE might not cover the entire tuition when you are studying abroad. OIE will advise you on this.
Typically, the preparatory language course prior to the semester is paid for by the foreign institution.
You are responsible for your own transportation to Germany or Switzerland.
You may have to purchase student health insurance at the foreign institution. These health plans are quite affordable and offer major medical. You don't need to purchase such a plan if you can provide proof of U.S. health insurance which covers you abroad.
Meals at the student cafeterias (Mensa) are inexpensive. Public transportation within the city limits or within the federal state is also very affordable. Student housing is also quite reasonable (in comparison to typical costs in the US).
Scholarships and Financial Aid
German majors are strongly encouraged to apply for the departmental Kicklighter Travel Grant in early February.
Our partner universities offer scholarships that cover some living expenses abroad (and which sometimes may be in the form of work-study arrangements). The number of scholarships is limited, which could mean that you may be admitted by the foreign institution but still not receive any monetary support. So far, the scholarships amounts were at least 400 Euro/month (or 4000 Euro for two semesters) or 500 Francs (5000 Francs total) in the case of Zurich university.
Also consult UGA's Office of International Education or search online for additional sources of funding.
Eligibility
Students must be in their 3rd year by the time of the exchange

Minimum GPA of 2.5

Minimum language requirement: GRMN 3010/3015 or equivalent by the time of departure
Contact
Please get in touch with Inge DiBella dibella@uga.edu, the German Study Abroad Coordinator. She will help you to select the best program for you and discuss all your options, such as internships, exchanges and scholarships.